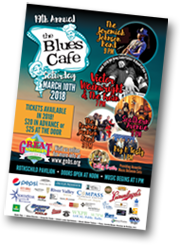 19th Annual Blues Café in the books
We want to thank everyone that attended this year's Blues Café. We feel it was a successful event, and that would not happen without your support -- it is appreciated.
Also, a huge thank you to almost 100 volunteers that help make the event so special. A special tip of the hat goes to Will Ostrem of Central Beer Distributors for his tireless efforts and long hours to make sure we are well hydrated. Without all of you, we'd be sunk.
We felt that all five bands were great, and if there are varying opinions out there we would sincerely appreciate feedback you want to offer. Favorite band? Any other acts that you'd like to see at future shows? Things that could be done better? We'd like to hear. Also, be sure to check out photos on our Facebook page.
Once again, thanks to all for attending, and mark your calendars now for next year's event on March 9, 2019.
Tuesday Night Blues schedule released
The Chippewa Valley Blues Society (CVBS) is pleased to announce the 10th Anniversary Season of its FREE summer concert series: Tuesday Night Blues! CVBS will also host a special 10th Anniversary Bash, to be held September 8th at The Metro (Eau Claire), with live music from Reverend Raven & The Chainsmokin' Altar Boys, featuring Westside Andy.
Details about the public anniversary party, as well as the full Tuesday Night Blues season schedule, can be found at TuesdayNightBlues.com
Tuesday Night Blues performances, held in the bandshell at Eau Claire's historic Owen Park, run from May 29th through August 28th, with 14 shows planned. Featuring many local, regional, and national performers, the concerts were initiated in 2008, and have grown in attendance from 200 the first year to audiences of over 2,000 in 2017.
Performances run from 6:30 - 8:30 every Tuesday, Memorial Day through Labor Day. In cases of inclement weather, the show takes place at Stones Throw, just across the river.
Tuesday Night Blues at Owen Park features a community fair atmosphere, with craft and food vendors (pizza, hot dogs, BBQ, ice cream), ample seating, a children's playground, convenient restrooms, and beautiful views of the Chippewa River.
New bands featured this year are: Squishy Mud (MN); The Brian Naughton Band (MN); and Odds Lane (St. Louis). Returning favorites include Grammy nominated Ellen Whyte (OR); and Charlie Parr, a performer featured around the world.
The FREE performances are underwritten by sponsor contributions and Chippewa Valley Blues Society membership.
For sponsorship advertising opportunities, contact Ken Fulgione at 715-577-4197 or marketing@chippewavalleyblues.com.
Volunteers are welcome, and can obtain information at TuesdayNightBlues.com. CVBS membership information can also be found at the website.
July 17: Howard "Guitar" Luedtke & Blue Max
July 24: Whyte-Orfield Band
July 31: Nick Foytik
August 7: Odds Lane
August 14: Left Wing Bourbon
August 21: Joyann Parker
August 28: Charlie Parr
September 8: 10th Anniversary Bash with
Reverend Raven & the Chainsmokin' Altar Boys, featuring Westside Andy
The Great Northern Blues Society meets every second Tuesday of the month at 6 pm, (in the back room) at Loppnow's Bar, 1502 N. Third Street in Wausau.
All members are invited and encouraged to attend.
Email us for more information or with any questions.